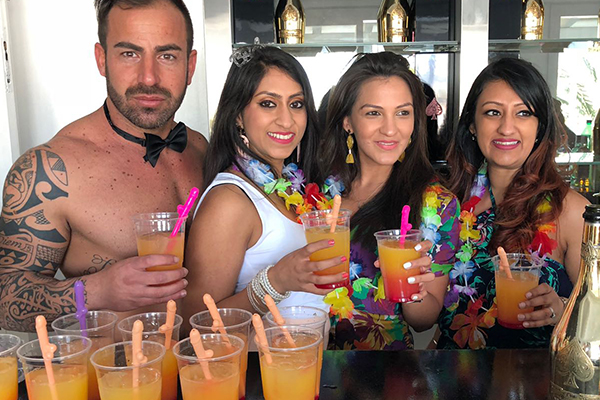 Marbella Cocktail Class
29£/Person
Minimum group Size 8 people. 3 Cocktails.
Caipirvodka
Mojito
Sex on the Beach
or Piña Colada
Let's get cheeky and wild, with a great activity and have a lot of fun with your friends.
We also offer Benidorm Cocktail Making Class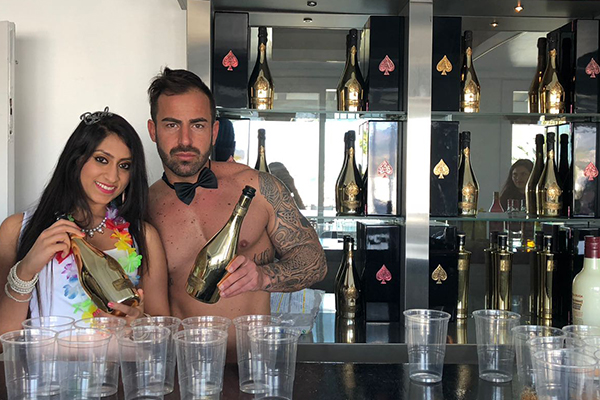 Marbella Cocktail Class & BBQ
59 £/Person
Cocktails and Barbecue
Enjoy 3 Cocktails and an amazing barbecue in Marbella with a gorgeous Butler in the Buff
Minimum Group Size 8 People.
3 Cocktails Caipivodka, Sex on the Beach, Mojitos. Shots and Extra Cocktail
Barbecue: Burger, Roasted Potato, Roasted Vegetables, Inferno Chorizo, Chicken Breast, Ice Cream
Marbella Cocktail Class & Tapas Lunch or Diner
49 £/Person
Minimum group size 8 people.
3 Cocktails, Mojito, Caipirvodka and Sex on the beach.
Tapas with different options attending Foodies, Vegans or Vegetarians. Ask about this to us.
The perfect choice for a great lunch or dinner before your night in Puerto Banus.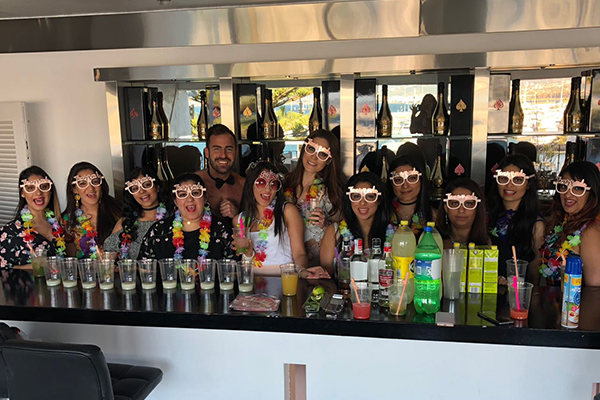 MARBELLA COCKTAIL CLASS
Marbella Cocktail Class, one of the classic hen do activities, if you stay on a private apartment or Villa, our handsome cheeky butlers in Costa del Sol will bring your favourite drinks and explain on a sexy and funny lesson how to make this cocktails.
Marbella Cocktail class is the perfect activity for a your weekend holidays in Marbella, and with a few shots thrown in after every cocktail creation you will be more than prepared for a crazy night out in the playground of Puerto Banus! Try our private cocktail making with Cheeky Butler Marbella.
Marbella Cocktail Making Class
Marbella Cocktail making class is a great way to shake up your hen do in a exclusive activity experiencing the wonderful world of Mixology.
Our  Marbella cocktail making classes you and your hen party will learn how to make perfect delicious cocktails and be guided on the concept of mixology and delicious cocktails  from scratch, so if you and your hen party are partial to indulging in a few cocktails and want to learn to shake, mix and muddle in Marbella with a delicious Sex on the Beach a charismatic Caipivodka or a tantalizing mojitos.
You and your Hen party will get the chance to make 3 different Cocktails to perfection as instructed by your Marbella cocktail  Mixologist.
Cocktail Class History
Traditionally people thought that cocktails ara a north American innovation, but originally are inspired by old British punches.
The word cocktail was written first on an british paper around 1798. But the first reference with the same meaning as actual word cocktail till 1806 with a publication on an ancient New York newspaper, defined a cocktail as a " stimulating liquor composed of any kind of sugar, water and bitters, vulgarly called a biltered sling.
The sling predated the actual cocktail, that is quite similar thing without bitters.
Cocktails are considered a stimulating drinks, but the history and the bartenders has converted cocktails on a true are called mixology.
Our Cocktail class in Marbella includes 4 different cocktails, that we consider are the best for a hen do in Marbella.
Mojito is the most famous rum based cocktail, and it comes from Cuba. A mojito can be done with white or dark rum, brown sugar, and mint. For a good taste, rum flavour should be really soft. The mint and lime complements the rum and produces a great sweet and citrus sensation, that is really nice if you are on a hen do in Marbella.
To prepare a really nice mojito cocktail is good to take a big glass with cocktail ice, and add fresh lime juice to the brown sugar and the mint leaves. This mixture need to be mashed with a muddler. The only need to be bruised to release the essential oils, then the rum is mixed with the mint and lime juice to dissolve the sugar, then add some soda or sprite and finally some crushed ice and use some a lime slice and mint leaves as decoration.
We also will prepare 3 more cocktails, sex on the beach caipivodka and blue lagoon.